Cyber Monday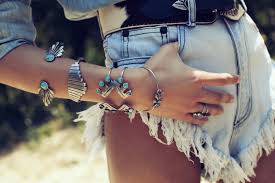 There are way too many sales going on today...it is truly overwhelming! My TOP DEAL goes out to....(drumroll)..... The 2 Bandits today.
Its very possible you have not heard of them....yet...but behold -- their amazing eye catching jewelry will forever haunt you :)
I have been EYEING their stuff for a long while now but it is a bit pricey :(.
Today, however, they are having 40% off EVERYTHING! Such a great deal, in my opinion!
WHY THEY ROCK:
Their cuffs fit like puzzles, almost. UM, I love puzzles. Must. Have....
Their designs are simple and I feel they will match with a lot of outfits. (very important to remember when buying pricier jewelry - how much bang for your buck?!)
The jewelry is inspired by South American and North American bohemian charm and crossing both rustic and refined styles.
Lastly, their designers name is TAMAR - uhhhh what a sick name.
This is such a unique gift for yourself or a loved one, Check them out and snag this deal!
SITE: http://the2bandits.com
CODE: CYBERBANDIT